Included
Transfer from hotel
Icmeler, Marmaris, Turunc
Location
Weekly Charter
Rental Type
Gulet Yacht 22125 is designed for the blue cruise and is considered to be one of the best luxury yachts and in this class, it is possible to participate  Goçek, Marmaris and Bodrum. It is one of our most affordable luxury yachts for guests who can allocate a slightly higher budget. If you want to charter a comfortable, clean and comfortable yacht and have an unforgettable holiday, Gulet 22125 can be one of the best options for you.
Boat Features:
Class – Gulet

Model – Luxury Yacht

Length – 24 m / 78.50 ft

Width – 6.60 m / 21.50 ft

Speed – 10 Knot

  Electricity – 12 + 24 + 220

Generator – 20 kVa

Guest – 12

 Crew – 3

  Cabin  – 1 Master, 3 Double, 2 Twin cabins

Air conditioning – 12 Hours/day

Engine – 1 x Caterpillar 380 Hp

Built/Renewed  – 1996/2011
Gulet Yacht 22125, built in 1996, was completely renovated in 2011 for your comfort. Gulet yacht 22125 yacht has 1 Master, 3 Double, 2 Twin cabins and each has air conditioning, WC and shower unit. The cabins offer accommodation for 12 guests.
On the aft deck there is a large cushioned seating area, dining table and dining area. Yacht 22125 has been arranged with sufficient sunbathing mats and space for all its guests.
Yacht rental fee varies according to the period of the season. While the wages at the beginning and end of the season are somewhat low, the wages are higher due to the high demand in the high season. Reservation requests that are usually left to the last minute will fail. Our humble advice to you is to organize your motor yacht charter requests, if possible, from the winter season and inform us. If we assume that it is difficult to make very advanced plans due to today's pandemic conditions and special reasons, it will be our primary goal to find a solution to the date changes that may occur with mutual understanding and tolerance.
Weekly cabin rental fees per 1 person are as follows. There are 1 Master, 3 Double, 2 Twin cabinsin the gulet.
| 01-30 Apr 2021 | 01 – 31 May 2021 | 01 – 30 Jun 2021 | 01 – 31 Jul 2021 | 01 – 31 Aug 2021 | 01 – 30 Sep 2021 | 01 – 31 Oct 2021 |
| --- | --- | --- | --- | --- | --- | --- |
| 790 € | 790 € | 880 € | 920 € | 1050 € | 880 € | 790 € |
---
Crew:
There are separate cabins for the 3 crew accompanying you on your journey. The crew consisting of captain, cook, sailor and service personnel (2 hosts / hostesses) organizes meals, cleaning, maintenance and daily activities throughout the tour, and retires to their own cabins when they are out of business for the comfort of the guests
---
Water sports:
Snorkel Equipment

Fishing rod

Service boat 10 Hp

Canu
---
Equipment and Entertainment:
It has all the necessary equipment for your comfort and safety during your holiday.
VHF Radio

Music System in the Hall

Dining Area on Deck

Sun Cushion

Deck shower

Marine Type Toilet

Complete Navigation Equipment

Full Safety Equipment   

Sailing Equipment 

Indoor Dining Area

Ice machine 

Mini bar

Card games
---
Services Included in the Price
Port charges and exit procedures

Ship agency expenses for cruise document and necessary procedures

Mooring fees Crew service

Drinking water Diesel and gasoline expenses

Bed linen and bath towels Free use of equipment on board

Yacht insurance (we recommend you to take out personal travel insurance.)
---
Services Not Included In The Price
Yacht food and drinks

Port taxes and customs charges in foreign waters

VAT

Airport transfers

Jet-ski and water sports use, if available on the boat
---
Food and beverages
 Full board accommodation difference is 35 € per day / person for the luxury menu, 50 € per person per day for the deluxe menu.

A difference of + 35 € per person per day is charged for the all-inclusive option.

Child discount for meals and all-inclusive pricing is applied for 0-5 free of charge and 6-12 years old with 50% discount.

You can buy drinks from the yacht bar or have them loaded on the boat yourself.

If you wish, you can load the yacht food on the boat before the tour starts.
---
Daily Yacht Charter Fees might vary according to the number of people, season period and beverage options. Please contact us for details.
MARMARIS-FETHIYE-MARMARIS
7 NIHGTS/8 DAYS
170 MILES
17:00 HOURS
---
Day 1
Marmaris

After arriving at your yacht in mid-afternoon, and getting ready to set sail, just take one day to enjoy the city of Marmaris and all it has to offer. The city is always busy, day and night, and you have ample access to multiple choices of cuisine and activity. This is also time to stock up on any extra items you want before you set sail. While Marmaris has a lot to offer, you might consider dining on board your yacht, enjoying the wonderful private chef service, which is the first of many to come, and watching the bustling city and harbor in action.
Day 2
Ekincik(Dalyan)

Between Marmaris and Dalyan lays the wonderful bay of Ekincik. What is most beautiful in this bay is small Iztuzu Beach. Iztuzu Beach is closed at night since it is a nesting ground for the loggerhead turtle, otherwise it provides a carefree pebble and sand beach environment during the day, when only a few yachts are moored off its side. Just after the beach you will find the Dalyan Delta, and this is an explorers dream, with its Lycian tombs and the ancient ruined city of Kaunos. If you prefer a more active respite, then take to some of the water sports offered in the bay of Ekincik. Apart from these three activities, which should be enough, there is also a short brisk walk along the western banks of the Delta that will provide you with a chance to spot a wild boar foraging for food.
The day's cruise
Day 3
Tersane Island

The biggest island in the Gulf of Fethiye is Tersane Island, known also as Shipyard Island. This bay has a 100 meter deep channel that was used by the Ottoman navy, hence the name shipyard island. The bay area has a lot of coves and towards the east lies the Summer harbor. The west side of the bay is not used much due to the strong winds that prevail most of the year. There is an ancient ruined town nearby called Telandria, and if you want to stretch your legs, this is a great place to do so.
Cleopatra`s Bath

While sailing along the coast near Hvar, there is a smaller island, it is Šćedro island, and you will be able to anchor in Manastir Bay. The bay is named after the abandoned monastery found just overlooking the bay, it was constantly pillaged by pirates until it was abandoned. And left to ruin.  Šćedro Island is home to a crater lake as well as some lovely trails. The bay area is exceptional and that is why Blue Cruises will always stop here. There are a few restaurants sitting in the bay, with lovely pergolas calling you to enjoy the shade and feel the gentle breeze, as you sip wine and watch the yachts come and go. This is not a place to restock, but it is a great stay over for a night and enjoy a dinner under the stars over calm waters. The bay light sup at night, and is a tranquil spot of serenity.
Kizil Ada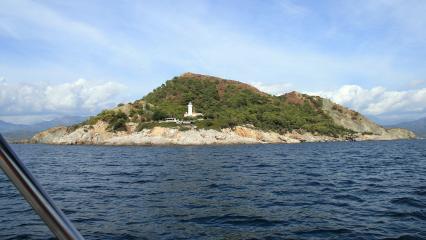 Kizil island is considered to be a magical place at sunset. The islands name means red and the grounds color is red. However, it is at sunset when the whole island transforms, all the stones turn crimson red, providing you with an amazing photographic shoot. The island is uninhabited, apart from a lighthouse that is located on the southern tip. The Deliktas isles re located to the north west and are considered to be another great place to anchor, but for swimming and fishing.
The day's cruise
Day 4
Fethiye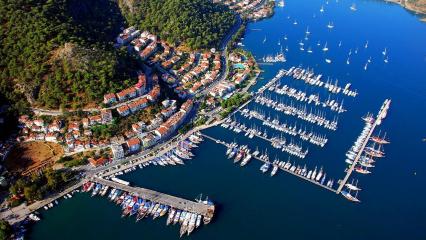 The sea side city of Fethiye is located half an hour's drive from Dalaman Airport.  It is a well-known tourist center in the South West of Turkey, and has a lot of bars, restaurants and many different day and night entertainment spots. Fethyie in itself is steeped in history with a number of exciting archeological sites and the area is steeped in layered culture, built over centuries. Th city has three marina's, all with modern facilities. Fethyie is a great spot for starting or finishing a yacht charter and has quite a few islands dotting its coastline adding spice to an already colorful city with a lot of local cuisine to whet your taste buds.
Yassica Islands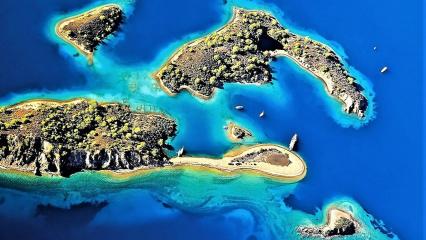 In the Gulf of Fethiye lie the Yasica islands, these are uninhabited islands that are perfect for swimming, visiting and just sailing around. Most of these islands have secluded beaches that provide a private relaxation environment, and you can while away the hours swimming and enjoying the quiet. Apart from relaxing, you can also enjoy a lot of water sports here, especially child safe water sports that provide a great daytime activity for your kids. The beaches and sea shores are stony, so you should come prepared with proper sea footwear. Some of the islands are so close to each other, that you can swim from one to the other, which provides a lot of exhilaration, as well as competitiveness. The nearest port is located at Gocek, and that is also where most of the day trippers come from. Try to stay for sunset, this is when the cameras come out and some of the most romantic and breathtaking shots can be taken during these hours of the late day.
The day's cruise
11

Miles
1:15

Hour
---
Sarsala Bay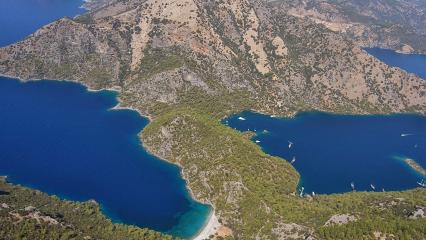 Yachtsmen love Sarsala Bay since it is a natural bay providing great swimming opportunities as well as a good place for overnight anchoring. The bay includes a pontoon that leads to a restaurant, and the inland scenery is delightful. There is a valley that leads inland through a dense forest of trees. The beach itself is stony, so come prepared.
Bedri Rahmi (Tasyaka) Bay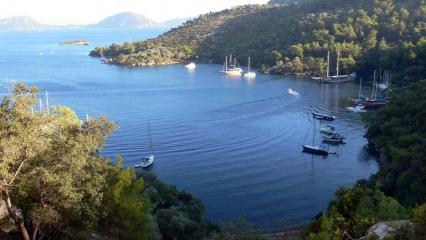 Bedri Rahmi Bay is named after the famous Turkish author Bedri Rahmi Eyuboglu, he used to come fishing in the bay, which was previously known as Dark Bay since Lycian times. During one of his fishing trips in 1973, he drew a fish on a rock at the entrance of the bay, giving the rock a new title "Fish Rock", this is now the name for the entire area. This bay is well sheltered, so winds do not prevail, and the colors are distinct, with the clear azure waters contrasting with the green pines, olive trees and oleanders that populate the hillside. The overall effect is exaggerated by a clear cyan sky.
Aga Limani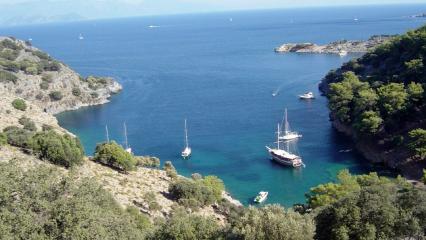 Within the Gulf of Fethiye lies the twin bays of Aga Limani. This is a wonderful place to anchor, and are prefect for swimming, fishing and just enjoying the day. The waters here are cool since they are connected to an underwater fresh water stream that comes down from the mountains. The seawater here is crystal clear, but if you prefer to visit inland, then take an hours walk to the ancient city of Lyda. There you will find a lot of archeological discoveries and the path leading there is exceptionally delightful.
The day's cruise
Kadirga Horbor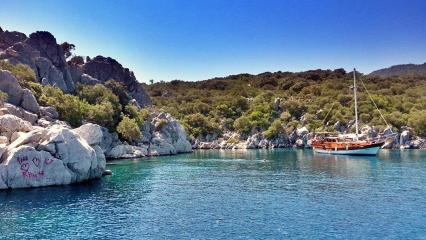 Just west of Marmaris you come to the blue flag awarded and shelter Kadirga Harbour. Aptly awarded since it has amazing clear waters and provides a nice respite for a quick dip.
Star Island (Nimara)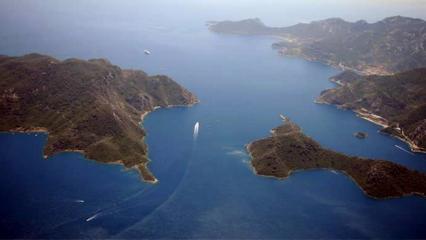 One of the nicest peninsulas near Marmaris is Yildiz island. This island offers visitors a number of cafes and restaurants dotted around the island for its many visitors. This is one of the few islands that you can literally spend a whole day at, and never get bored. There is plenty of swimming and snorkeling opportunities to choose from. There is also a bay area called "the wrong channel" that's because it resembles a channel at night, and many a sailor has made the mistake of going down I, ending up crashing on its rocky ending.
The day's cruise
51 Miles
5:15 Hour
---
Marmaris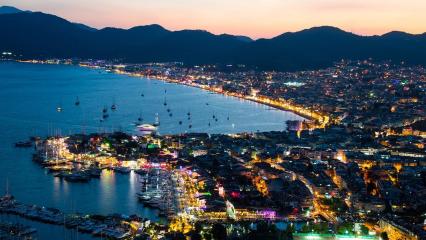 After finishing your long and exhilarating voyage across the Mediterranean, maybe the Aegean and Adriatic too, you arrive back in Marmaris and prepare for your return home. This is a great moment to enjoy a day's stay over in this amazing city. Marmaris is a jewel, its name is appropriate "Turquoise coast" and it provides you with every taste of the Mediterranean and Turkey before you leave for home. This is the time to take that last shopping walk and collect the memorable items and local wares before leaving.